I've been on a craft kick lately. Working on Christmas presents, pajamas and a few things for the boys room. Hopefully I'll get it all done by the time Smidget (nope, no name yet… it's starting to make me panic!) gets here. I have dreams of the house half decorated in Halloween and Christmas decorations and then I go into labor… yeah… I know.  The silly things I freak out about.  I digress.
While on this crafty kick, I decided G needed a Halloween shirt.
I saw a Frankenstein graphic on Etsy that I wanted to copy in felt and fabric, but I wanted Frank's face to have a little more interest and I wanted his eyes like the Crazy8 shirts Gav's had the past two seasons… googley!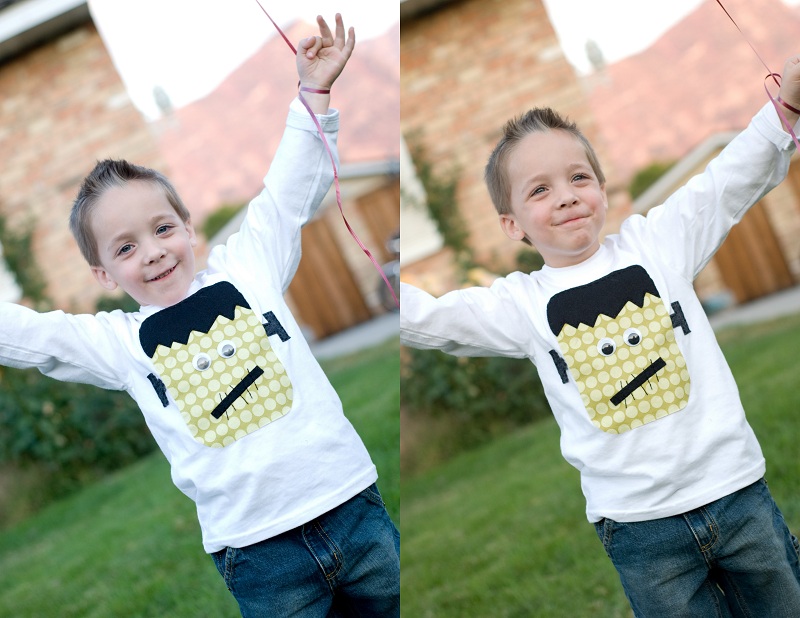 (the picture on the right is more true to color… I just realized how weird they look together. I changed my settings in between trying to get G to stand still.) 
He loves this shirt, and is currently sleeping in it… he fell asleep in the car and I couldn't bear to take it off him while he was half conscious.
Ok… I think I'm all caught up… Like I said a few posts back… life hasn't been too exciting for us lately. But I will be taking more pictures, writing down more of G's anecdotes and documenting the craft-craziness that I'm in the midst of. I have tons of projects I'm working on, in addition to nesting and trying to keep a 3-year-old smartypants under control!  This winter could prove to be challenging!